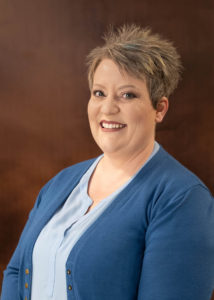 Dr. Kelly Davis, a Clinical Psychologist, joined the Grand Peaks Team in the summer of 2018. Prior to joining Grand Peaks, Dr. Davis was living and working in the Milwaukee, Wisconsin area for many years.  She has experience working with clients across most of the lifespan, from adolescents to older adults as well as working with a broad range of mental health conditions including depression, anxiety, trauma, substance use disorders, personality disorders, end of life, and severe persistent mental illness.
Dr. Kelly Davis has worked in a variety of settings including corrections, outpatient community mental health, nursing homes/assisted living centers, community based forensic, and inpatient mental health care.  Within these settings, Dr. Davis has provided psychological assessment/evaluation, capacity/competency assessment, psychotherapy, consultation, and training.  She also was an Associate Professor for 9 years, helping to train graduate students pursuing their doctoral degree in clinical psychology.  In addition to direct service, Dr. Davis is passionate about advocacy related to mental health and access to quality, affordable care for everyone.  She was a member of the Milwaukee Mental Health Task Force for 10 years, leaving her position as Co-Chair of the task force to return to Idaho.  Dr. Davis also was actively involved with NAMI-Greater Milwaukee and their work in training law enforcement officials about mental illness.
Originally from St. Anthony, Dr. Davis and her family returned to the area in the summer of 2018.  She and her husband have three children, and she gained three bonus kids when she met her husband.  Of the six kids, they have two sets of twins!  Dr. Davis and her family are enjoying living near family and going on all of the outdoor adventures our wonderful community offers.  Dr. Davis is looking forward to becoming more involved in the community and being able to share her passion for helping others and advocating for those who need it most.  She is very excited to be able to offer her services to the community where her love of people began.